It's time to say welcome to autumn! Where the season of colour, nostalgia, comfort food and autumn flavours begin.
Familiar and comforting tastes remain extremely popular, and brands are developing products to meet consumer demand for nostalgia, indulgence, excitement and innovation.
The autumn palette is warm, rich, earthy and golden. It extends from the red of apples to the varied shades of orange. As well as the warm colours of autumn, many seasonal products also feature warm flavours such as cinnamon, cardamom, salted caramel and pumpkin spice.
Brown tones
Chai-spiced maple & pecan cookies, chocolate and hazelnut, walnut cake, speculaas, salted caramel latte and other products are already on the shelves.
All nuts, such as walnuts, hazelnuts, almonds and pecans can bring that cosy and woody flavour to any product, whether it's baked goods or a hot drink. The indulgence of chocolate is ideal for creating sweet combinations with marshmallow, berries, nuts or spicy flavours to elevate the temperature.
We can't forget our star! Star anise along with clove, cinnamon and nutmeg for that finishing touch.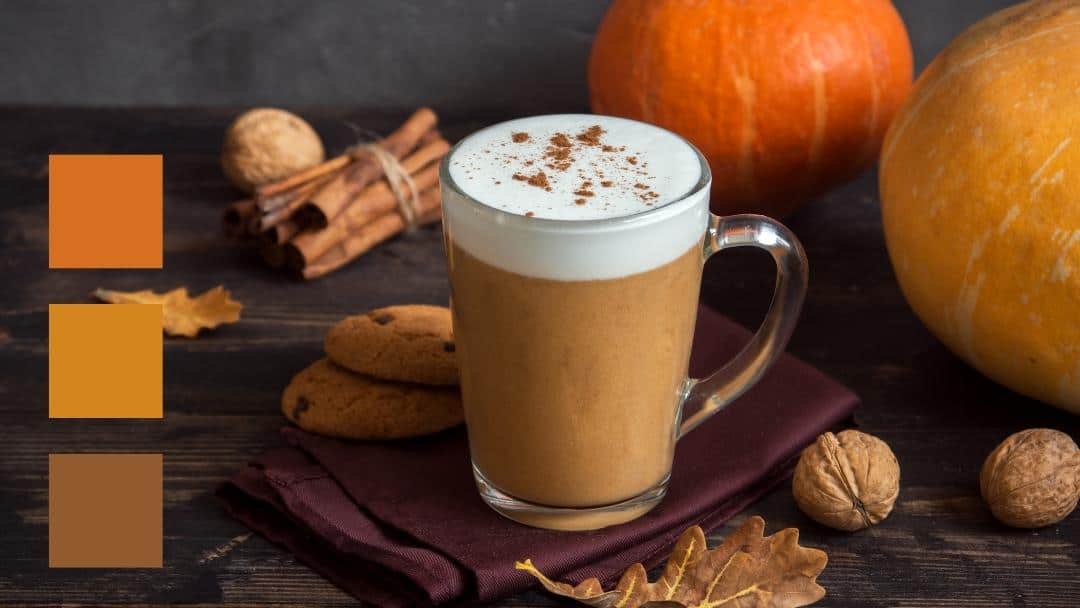 Orange tones
Certainly, one of autumn's top palettes, orange tones of pumpkin and root vegetables like carrots and sweet potato.
Pumpkin can be very versatile in applications and makes a good match with some spice and brown flavours, such as Pumpkin Spice Dream Doughnut and Pumpkin Chai Latte.
Like the name of the colour, oranges are very popular this season, as well as other citrus fruits, and can be combined with sweet profiles offering sweet and sour notes. How about St Clement's Chocolate Drizzle Loaf Cake or Spiced Rum Zombie Cocktail made with orange, pineapple and lemon.
Red and dark tones
Reds bring the warmth and comfort that consumers so desire. Nothing better than mulled wine and apple pie to warm the body. Why not be bold and use chillies?
With the trend for bold and adventurous flavours, chillies are a great option to give a twist to the classics.
Fruits like apples and figs make a perfect combination with sweet profiles like maple. For savoury dishes or even cocktails, the smoky flavours can add a surprising mouthfeel, full of umami notes.
Liquorice and black truffles will be present to add a dark flavour to both sweet and savoury dishes.
Yellows, Greens and other tones
From the traditional pear to the unusual Yuzu, used in tarts, pies, poached in wine or spirits the use of these fruits is endless. With flavour notes of honey, pear and apple with citrus undertones, quince is a heritage fruit, that is in demand.
Gingerbread is not to be missed! To add a healthy touch to this cold season, flavours that support immunity concepts will also be in the spotlight, such as ginger and honey.
Source:
Mintel – Halloween won't wait
Mintel – Flavour innovations: pleasure and escapism
The food people – drinkswatching September 2022
The food people – Autumn 2021