Happy New Year, Happy Dry January
With the departure of 2020 and new hopes and resolutions for 2021, a record number of Britons have signed up for 'Dry January' seeing an increase in sales of no and low alcoholic beverages.
According to Alcohol Change UK 6.5 million have taken up the challenge of going alcohol-free for the 31 days of January, a long way from the 4,000 that took part when the campaign started back in 2013 and up by a staggering 3.9 million from last year. Many re-evaluating their drinking habits following COVID 19 lockdown.
Want to add our #NaturallyFabulous mocktail blends to your product range request the #HitchenBar mocktail flavour samples here
The growing popularity of mocktails
Whilst this January there will be less risk of feeling like the social outcast in the corner of the bar with your plain water or sugary soft drink served in a glass with a straw, life need not be dull at home. We've all enjoyed a Zoom party or two these last months and now with more time at home people are experimenting more and honing their mixology skills, creating artisanal-curated drinks to celebrate virtual happy hours and injecting a bit of fun into a mundane routine, a skillset set to take off in 2021.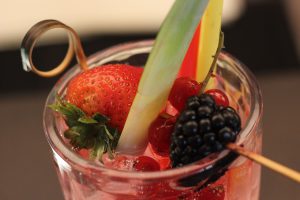 During COVID 19 we saw the rise in popularity of meal kits up +511% in popularity as reported by Tastewise, so it's no surprise that cocktail/mocktail kits are the next big movers-and-shakers in the space. However, despite there being a +816% growth in discussions about delivery from bars, only 1.4% currently offer cocktail/mocktail kits, a great opportunity for foodservice, whilst on the other hand certain companies are marketing online masterclasses. Mixologists are now devoting as much time creating exciting mocktails as they are cocktails and presenting them on the drinks' menu either beside or within the list of cocktails.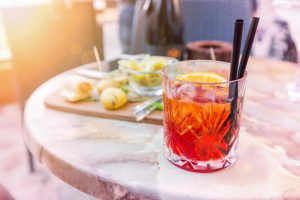 According to Tastewise, mocktails are up 21% YoY in consumer interest and up 5% each month on average in restaurant discussions, whether ordering in or dining out. No longer the previous disappointing creations instead they are taking on an artisanal vibe, represented on social media in Instagram-worthy posts, where it is not just the product that is important to the occasion but the experience-come-theatre and where mocktails come into their own against other 'nolo' drinks.
47% of consumers in the UK who have reduced their alcohol consumption in the last 12 months claim it is to improve their health. It is therefore no surprise that we are also seeing more demand for cocktails with functional benefits supporting our immunity.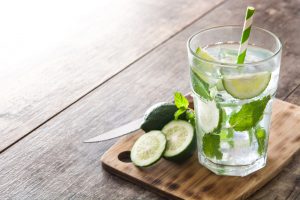 Tastewise has seen flavours such as bitter and sour up +62% and +55% respectively and seen to be highly correlated to strengthening the immune system whilst sweet flavours only show a small growth of 9%. More sophisticated natural flavours, more grown up rather than fizzy overly sweet drinks are being demanded by consumers as we see the 'better for you' trend rise.
The #HitchenBar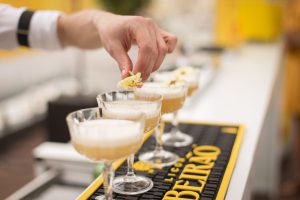 Our very own #HitchenBar mixologists have been hard at work developing flavours to support these trends and drive innovation in products whether in cocktail/mocktail kits or on shelf in stores. The #Hitchenbar have taken four of the most popular and classic cocktails – Mojito, Negroni, Martini and Cosmopolitan and recreated them using a combination of fruit, botanical and alcohol flavours, ensuring that each one is truly representative of their counterpart. They know that every mocktail flavour must have a great beginning, middle and end to create the same sensation and kick found within the alcoholic equivalent.
We're helping our customers make the most of Dry January and the no lo alcohol trend with some fantastic mocktail flavourings.
If you would like to sample any of the mocktails flavours mentioned in this article or discuss how we can help you develop your product get in touch today. Our Creative Solutions team are happy to share their expert knowledge and experience.