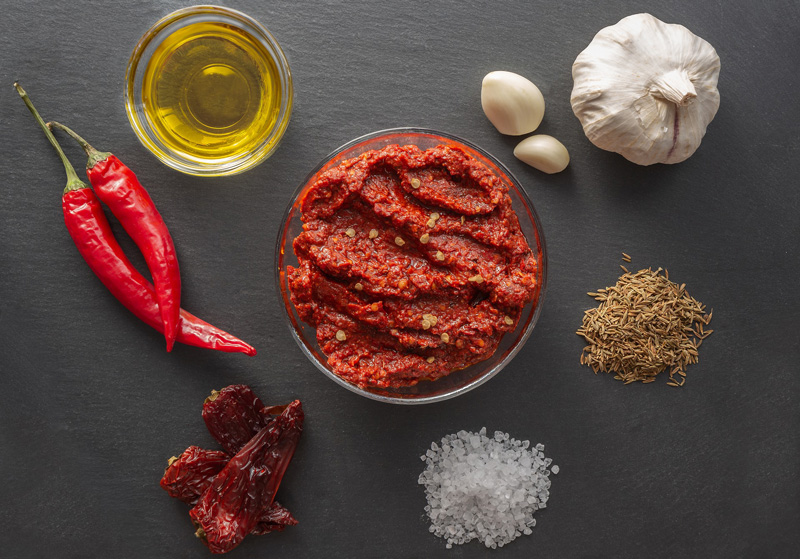 African flavours and ingredients are now seeing a rise in popularity across the food, drink, health and beauty sectors. Whilst much of the focus has initially been on North African flavours such as Harissa and Ras El Hanout, within the UK market West African and South African flavours are also increasing in popularity, with their rich flavours and hot spices causing quite a stir!
These dishes are spicy and flavourful, 'The Food People' have listed many of the spices used in this cuisine as trends they expect to see increasing in popularity. Harissa has been poised to become the next Sriracha, as the garlicky chilli paste adds a boost of flavour to dishes, often stirred into cous cous and used in marinades. Ras el Hanout, a mix of herbs and spices that provide a flavourful base to many dishes, is marked as a trending flavour for vegetable dishes, playing a similar role in North African cuisine as Garam Masala does in Indian and Advieh does in Persian.
Fusing African flavours
Many restaurants are now experimenting and fusing traditional African dishes and spices in to their menus.
Staples within West African cuisine such as rice, chilli and plantain bring a sense of familiarity to the plate, whilst also allowing for the experience of trying something new. Packed full of vegetables, pulses and ancient grains; these dishes link well with the rise of veganism and gut-conscious diets, as many traditional African dishes are vegetarian or vegan and most are naturally gluten free. Traditional dishes such as Jollof rice, Moin Moin and Dambu Nama see a modern twist at Ikoyi restaurant in London, which gained its first Michelin star in 2018.
The growing West African food trend in London
Nigeria, Ghana and Senegal are the countries being given the most attention and with millennials serving as the driving force for a new wave of culinary tourism and the subsequent cultural shift from West to East, consumers are becoming far more open-minded in terms of food and are now far more willing to try new, exotic products [1].This allows chefs to head back to their roots whilst also exploring new ideas. For example, take the Nigerian tapas offered by Chuku's pop-up restaurant in London – where brother and sister Emek and Ifeyinwa are sharing what they love about Nigerian food and culture, whilst adding their own modern twist. Their mantra of 'Chop. Chat. Chill.' highlights the great importance that the social side of West African food holds, with a strong cultural emphasis on sharing and talking about food.
This cultural emphasis fits very well with the new trend of social dining, where food halls and supper clubs are gaining prominence and dining experiences like Zoe's Ghana Kitchen are given the opportunity to shine. These restaurants allow not only the diners but also the chefs to connect with the culture, where close knit communities have preserved food traditions over decades and are now passing them onto the new generation of chefs eager to reclaim their heritage and share it with new audiences.
Traditional African flavours
There's still plenty of room in this rapidly growing scene for other traditional African dishes, such as Chermoula, a marinade or relish, traditionally used to flavour fish and seafood and Chakalaka Spice, a South African vegetable relish traditionally served alongside bread, stews and curries.
If you're looking for some African Flavours to spice up your recipes check out our new range of African 'HiTaste' Flavours – Cape Malay Spice Blend, Chakalaka Spice Blend, Chermoula Blend, Harissa Blend, Ras El Hanout & Tsire Spice Blend. These easy to use, versatile liquid seasoning blends can be used in a wide range of applications including; seasonings, sauces, condiments, marinades, soups and ready meals.