Say goodbye to the cold weather and welcome the summer! For a few months we have the chance to enjoy the great outdoors (fingers crossed!). This is a great opportunity for brands to launch seasonal flavours, taking advantage of changing consumer behaviour.
The trend for bold flavours and multi-sensory experiences are taking the spotlight this summer, with candy coloured cocktails and super hot flavours, we're eating and drinking with all senses heightened. To support consumers' thirst for multi-sensory adventure, flavours will play an important role in food and drink!
Summer holidays
Tropical flavours dominate the summer, not only for their refreshing taste reminiscent of summer holidays but also for their visuals that are taking over social media.
Retailers already have their summer products on the shelves, and we can see everything from ice creams to tropical tart with layers of mango and passion fruit with pineapple and shredded coconut on top.
RTD cocktails arrive just in time for the party season with natural flavours such as Pineapple Mango, Passion Fruit Martini and Piña Colada.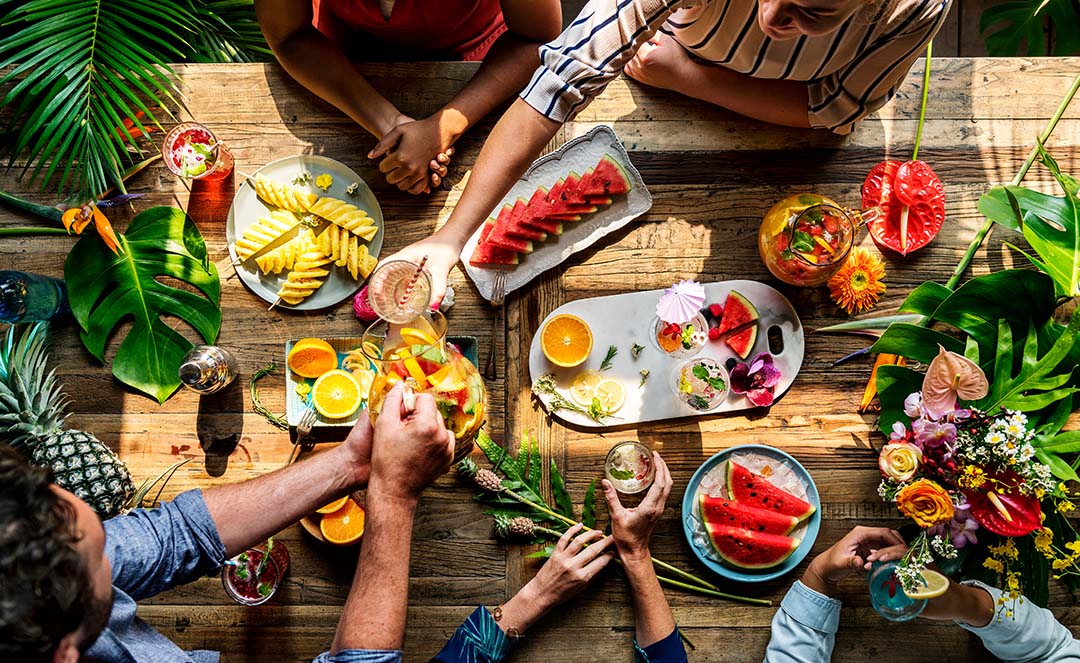 Citrus hit
There is nothing more refreshing than a lemonade on a hot summer's day. Citrus fruits are great on their own but can be amazing when combined with other flavours.
How about Passionfruit & Lemon Roulade or Orange, Sultana & Blossom Honey Scones? To turn up the heat, combine citrus with spicy flavours like cardamom, chilli and habanero.
Fresh berries
Summer berry flavours are also popular for this season, with strawberries, raspberries and blueberries being among the most versatile in applications such as Blueberry Cheesecake, Neapolitan Celebration Cake, Strawberry Gin Liqueur, Raspberry Iced Tea, to name a few.
This perfect meeting of berry and floral flavours to elevate the taste experience such as raspberry and elderflower, strawberry and hibiscus is also on the rise in many beverage products.
Time to bloom
Floral flavours bring a sweet and delicate aroma to the season. Lavender, rose and cherry blossom remain popular in spritz, soft drinks and iced tea.
With the rise in floral flavours in the food and beverage sector we may notice more unusual florals being added to dishes and drinks.
A taste of summer with Lionel Hitchen
We understand that summer flavours are not only about refreshment, but also a complete taste experience that allows us to travel through our sense of taste and enjoy those hot days.
Our selection of tropical flavours will transport you to that perfect summer holiday. From juicy watermelon to exotic dragon fruit, we offer true-to-fruit flavours that can be used in a variety of applications in the food and beverage industry.
We also offer a summer fruit range that is bursting with seasonal flavours including juicy berries, sweet strawberries and tart fruits. These Naturally Fabulous fruity flavours can be combined together with other products from our citrus, herb and spice portfolios to create more complex flavour profiles.
Request a sample now and get ready for the high temperatures!
Source:
Thefoodpeople – drinkswatching June 2022 – Spring & summer coffee
Thefoodpeople – Soft Drinks 2022
Theffodpeople – Summer 2021
British Baker – Sweet bakery NPD targeting summer of indulgence
British Baker – Sainsbury's unveils bakery range for summer 2022