It is no surprise that consumers are tired of the uncertainty and distress that the pandemic brought. After suffering lockdowns and the confines of their homes, people want to explore new tastes and sensory experiences and are looking for products that can deliver this sense of adventure.  Brands are seeing this as an opportunity to innovate their products by intensifying the flavours, colours, textures and aromas that food and beverage can offer.
As we all know flavour plays a fundamental role in the success of food and beverages, but beyond this they can offer consumers comfort and even adventure through stimulation of the senses and memory.
Whilst subtle floral flavours have been popular recently, bolder flavours are becoming more important as consumers look for the fresh vibrant citrus notes of summer or the depth of flavour from chocolate.  However, as Covid has impacted the senses and brought with it uncertainty there are those that seek reassurance from food and drink that has a recognisable flavour.  Sometimes simple is best and as such thefoodpeople have seen a trend for flavours such as watermelon, ginger and cherry.
Bold flavours and intense smells
In the confectionery sector, brands are taking an experimental approach to innovation, offering flavours that contrast as sweet and sour.
Indulgent options are increasingly winning over consumers who seek memorable experiences as an alternative channel for more moments of pleasure and escapism.
Global flavours continue to grow in popularity, perhaps due to the lack of travel. New combinations and more exotic flavours from different countries give consumers the sense of adventure without the need to travel.
Consumers are happy to experiment adventurous tastes and smells, from the sour of Persian limes to the sweetness of cherry blossom. Global peppers are making the meal a little hotter and offering a complex flavour to their meals.
On top of this taste experience, we are seeing umami gaining the spotlight as the core fifth taste, joining the other four – sweet, sour, bitter, and salty.
Whilst flavour is fundamental in creating a memorable taste experience, it is important that the industry considers all sensory attributes such as appearance and texture to meet consumers' desire for new sensations, such as indulgent foods and drinks that stimulate more than taste and smell, offering a complete sensory experience!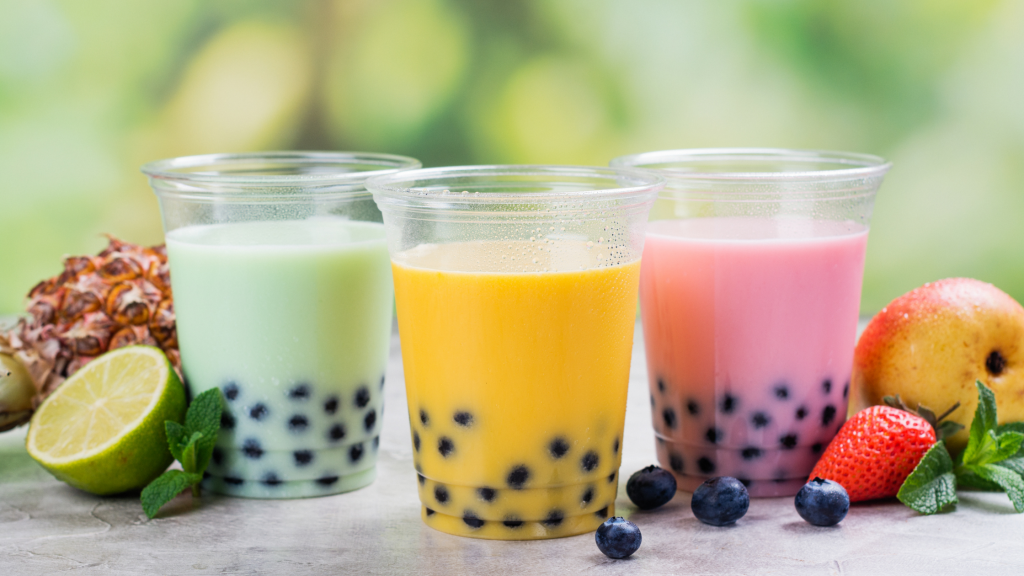 Beyond taste – spotlight on mouthfeel
Texture can give food and drinks a more interesting experience, especially in the confectionery sector, where a heightened sensory experience offers a greater feeling of indulgence. Drinks with bubbles and tapioca pearls have a good mouthfeel and are increasingly gaining consumer attention.
For the plant-based product category, texture can play a very important role when it comes to meat substitutes. Particularly for consumers transitioning to a vegetarian or vegan diet, replicating the experience of eating "real meat" is key to attracting this group.
But, flavours can also play an important role when it comes to mouthfeel as our tongue reacts in different ways to bitter, sour, sweet, salty, umami and chilli.
Eating with your eyes
Following the wave of social media, the rise of 'Instagram' food is sparking a desire to 'eat with your eyes', with brands posting beautiful photos of food.
Colours are one of the key elements in attracting consumers' attention. Increasingly food and drink with more vibrant colours and a mix of different shades are appearing on the market. However, whilst colour is important it can have a negative impact, as the human brain can associate colours with either a desire or distaste for some foods, especially with consumers becoming wary of artificial ingredients.
Featured below is our selection of new products that we feel exemplify the trends mentioned in this article.

Marshmallows combined with gummies
Skittles Squishy Cloudz Soft and Airy Crazy Sours Flavoured Sweets are described as a cross between marshmallows and fruit gummies.

Flavoured Sparkling Cold Brew Coffee
Made by sourcing, roasting and blending the finest beans to offer the chance to explore and experience the aromatic blends with raw sugar cane.

Aroma pad
Air-Up has launched an aroma pad that enables consumers to experience scent-based taste. The pad is attached to the mouthpiece of water bottles and tricks the mind into believing that we are drinking something sweet by releasing 100% natural sweet vapours into the air.
Lionel Hitchen delivers on trend flavours and flavour ingredients
Lionel Hitchen supplies and manufactures natural flavours and flavour ingredients.
Drawing inspiration from global cuisines and their local culinary recipes, our ever growing HiTaste Range delivers an authentic taste experience for consumers wanting a sense of adventure without the travel.  These liquid seasoning flavours based on natural oil extracts and other natural flavouring ingredients are perfect for a multitude of savoury applications.
Our Floral Range offers delicate and sophisticated florals flavours that can be combined with other products from our citrus, herb and spice portfolios to create unique, layered flavour experiences.  A popular one is our rose and cardamom paired together to create a floral, spicy, aromatic Middle Eastern taste.  Or if heat is required then there is our Chilli Range, providing a wide choice of authentic named chilli extracts to help you meet the needs of your customers.
Source:
Mintel – Global Consumer Trend 2022
Mintel – A year of innovation in sugar confectionery, 2022
The Food People – Soft Drinks 2022