The growing trend for all things retro
The trend for all things 'retro' has been on the increase in recent years, with the demand for retro products appearing everywhere; from video games, to fashion, interior design, and everything in between. This trend has also been spreading through the food, beverage and fragrance industries; with restaurants and manufacturers bringing back slices of nostalgia with our favourite childhood pudding and dessert flavours.
The history of the pudding
Puddings are as British as it gets, they are a huge part of British culinary heritage. Dating back to Medieval times puddings were originally meat-based savoury dishes. However, towards the end of the 18th century puddings no longer contained meat and became more like the cake based desserts now known as traditional British puddings. Some of the most popular traditional classics date back to this era including Treacle Tart, a classic British nursery pudding created in 1879.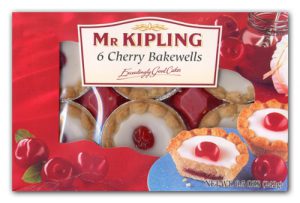 'Cherry Bakewell', which is most commonly associated with the Mr Kipling Cherry Bakewell launched in the 1960s, was originally referred to as Bakewell Pudding and actually originated in Bakewell in 1859. Later retro pudding arrivals dating from the 1970s include Sticky Toffee Pudding and Banoffee Pie, which coincided with the resurgence in popularity of the Cheesecake, which dates back as far as the 5th Century BC. [1 & 2]
The rise of the pudding!
Although sales figures suggest there is a decline in demand for British puddings in their traditional form, 'thefoodpeople' predicted in their 2020/21 trends that desserts are on the rise. Their 'Desserts Mean Business' article states "There's something about desserts, as this last course becomes the first thing we think of. Consumers are searching for dessert-only menus as puddings and sweet treats become an event in their own right and steal the appeal we once exclusively reserved for afternoon tea. Dessert is an occasion." [3]
The influence of retro pudding flavours in hybrid, healthy and functional products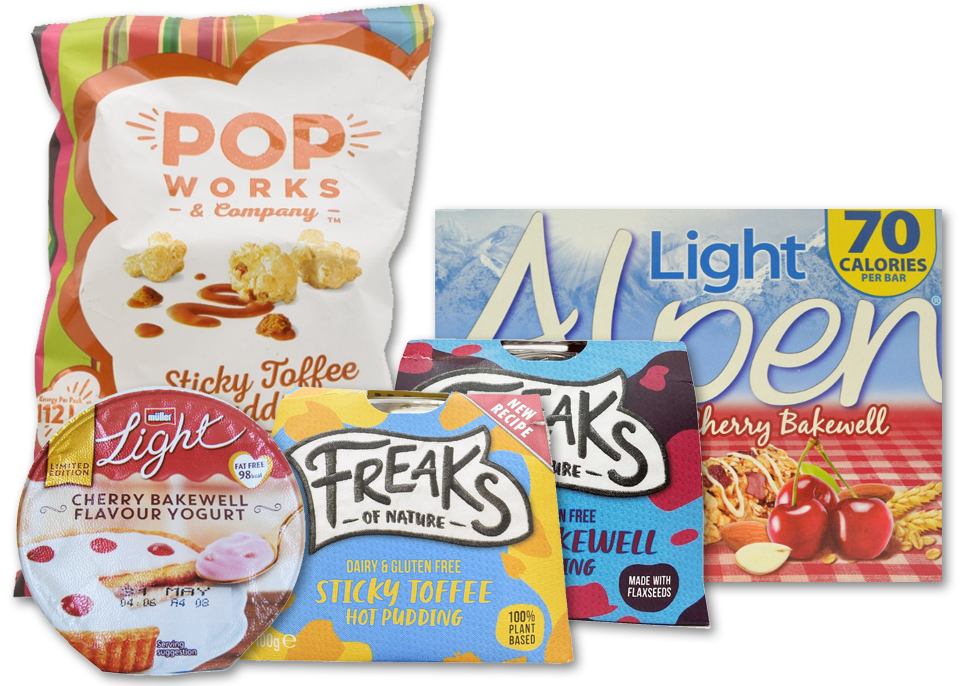 In recent years the flavours associated with retro desserts have been spreading from the bakery category in to other food and beverage categories, even influencing the fragrance and fashion industries. Imperial Leather launched a Cherry Bakewell shower cream in 2017, Yankee Candle manufactured a 'Cherry Bakewell Tart' scented candle and there are even ranges of earrings and jewellery based on traditional puddings and cakes.
When it comes to pudding flavours a cross-over can clearly be seen between the juxtaposing 'don't stop gratification' and the 'optimising self' 2020/21 macro cultural trends identified by 'thefoodpeople'. The indulgent flavours of classic puddings are appearing in healthy food alternatives such as cereal bars, yoghurts and snacks. Freaks of Nature launched a range of convenience vegan puddings made with flaxseeds which are dairy, gluten, egg and soya free.
Pudding Flavours Cross Categories
Pudding flavours are springing up everywhere including the dairy category, in products such as ice cream, and the beverage category, in both the alcoholic and non-alcoholic sectors. Cherry Bakewell, Sticky Toffee and Lemon Drizzle flavoured gins and vodkas have appeared on the craft spirits scene, whilst the hot drinks sector has seen the emergence of cake and pudding flavoured coffees and creamers, such as Strawberry Cheesecake. It seems certain that these traditional pudding flavours will continue to re-emerge and reinvent themselves in new and innovative ways across all categories within the food and beverage industry well in to the future.
Our delicious range of 'Retro Pudding Flavours' includes Cherry Bakewell Flavour, Lemon Drizzle Flavour, Sticky Toffee Pudding Flavour and Treacle Tart Flavour.
These Naturally Fabulous vegan flavours work in a diverse range of applications including confectionery, dairy, bakery and porridge.