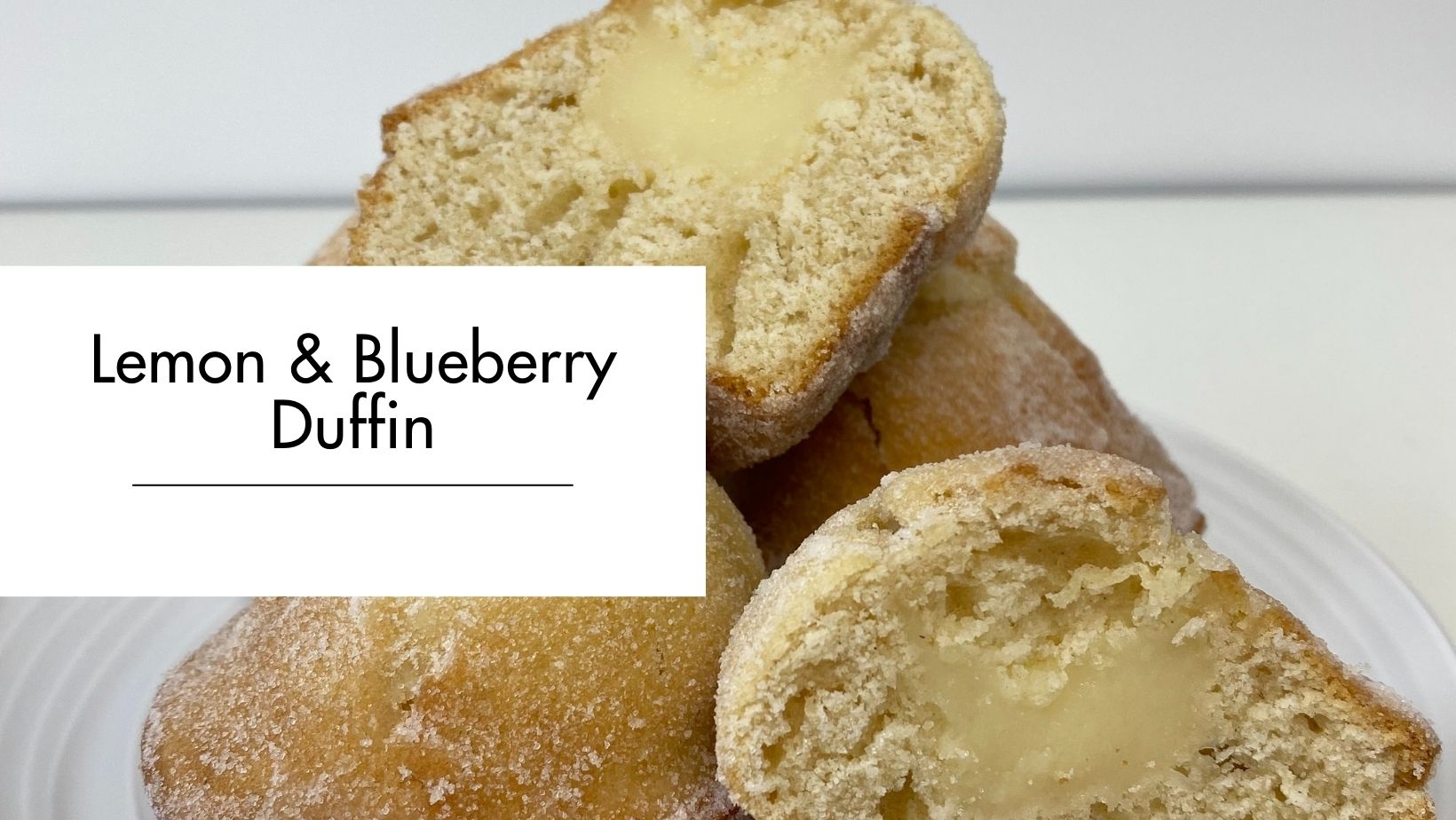 Ingredients
For the Lemon Duffin
115g Lightly Salted Butter

150g Caster Sugar

340g Plain Flour

2tsp Baking Powder

225ml Whole Milk

1 Large Egg
For the Blueberry Crème Patisserie
675ml Milk

135g Caster Sugar

40g Cornflour

2 Whole Eggs + 2 Egg Yolks (approx. 125g)
To Decorate
100g Caster Sugar

75g Lightly Salted Butter Melted
Oven Settings
Convection Oven

175°C

20 – 25 Minutes
Flavours
For the Lemon Duffin
Lemon Oil Sicilian IN11610 @ 0.23%
For the Blueberry Crème Patisserie
Blueberry Flavour HD9461 @ 0.04%
Method
For the Lemon Duffin
1. In a large mixing bowl whisk together the butter and sugar until light and creamy.
2. Then whisk in the egg and the Lemon Oil Sicilian IN11610.
3. Next sift in the flour and baking powder and mix until combined.
4. Then while still mixing gradually add the milk to create a smooth, thick, batter.
5. Divide the duffin mixture into 12 muffin cases and smooth down the tops.
6. Place in the oven and allow to bake for 20 – 25 minutes until risen and golden brown.
7. Once the duffins are baked, remove from the oven, and allow to cool on a wire rack
8. In the meantime, make the Blueberry Crème Patisserie SW0055 or see the recipe below.
9. When they are completely cool fill them with the Blueberry Crème Patisserie. This can be done either with a piping bag and nozzle or by cutting out the core of the duffin and filling it before replacing the top.
10. After you have filled the duffin, melt the 75g of butter and paint this over the duffin before rolling it in caster sugar to cover it completely
For the Blueberry Crème Patisserie
1. Placed the milk on a low to medium heat in a saucepan and heat the milk until just before it begins to boil.
2. In a bowl combine the caster sugar and cornflour with a whisk.
3. Add the eggs and yolks to the sugar mixture and whisk until pale and fluffy.
4. Once the milk is just about to reach the boiling stage, remove it from the heat and gradually pour it into the egg mixture very slowly, whisking as you do. (This is to temper the eggs)
5. Once you have added half the milk into the eggs pour the mixture back into the saucepan.
6. Place over the heat again and bring to the boil, whisk regularly until it has thickened.
7. Remove from the heat and sieve the crème patisserie into a clean bowl.
8. Place a piece of cling film on top of the crème patisserie to stop a skin from forming.
9. Allow it to come to room temperature before placing in the fridge to chill.