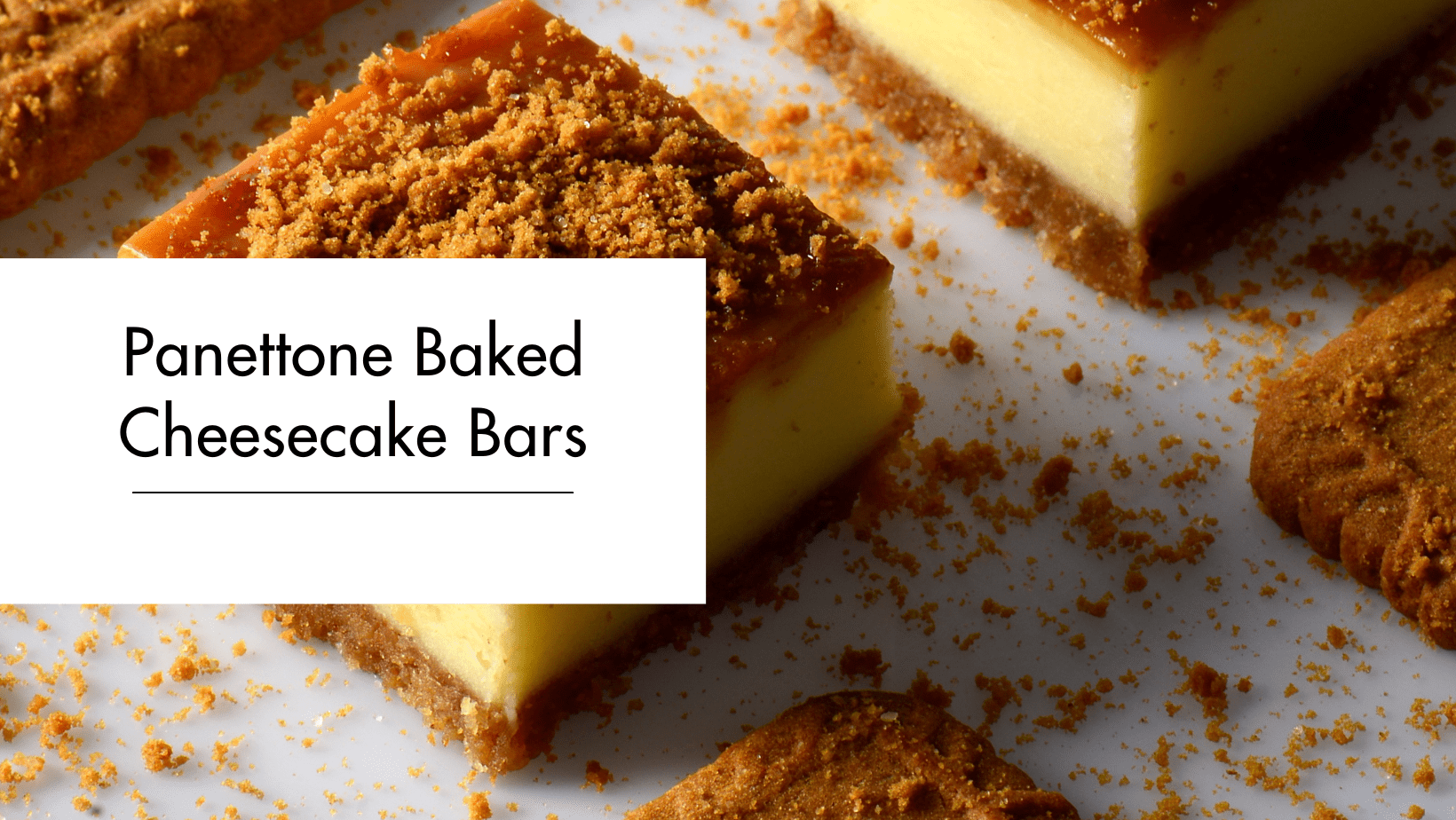 Ingredients – Base
200g Digestive Biscuits – 53.33%
185g Unsalted Butter – 46.67%
Cheesecake
150g White Chocolate – 14.56%
375g Full Fat Soft Cream – 36.41%
100g Caster Sugar – 9.71%
240g (4) Medium Eggs – 23.30%
15g Icing Sugar – 1.46%
150g Double Cream – 14.56%
Panettone Baked Cheesecake Bars Recipe
A classic cheesecake recipe with a twist!
Method:
1. Preheat the oven to 180°C and place a silicone bar mould onto a baking tray.
2. Blitz the digestives in a food processor to create a fine crumb
3. Melt the butter in a glass bowl in the microwave.
4. Add the biscuit crumbs into the melted butter and mix together.
5. Line the bottom of each mould with a layer of biscuit crumbs, ensure that you press down to create a compact layer.
6. Bake the biscuit base in the oven for 5 – 10 minutes.
7. Once the base has been baked remove it from the oven and lower the temperature of the oven to 160°C.
8. Place the white chocolate in a bowl and microwave in short bursts until melted, then leave to one side to cool.
9. In a KitchenAid bowl add the full fat soft cream cheese and beat with a whisk attachment until smooth.
10. Add the eggs one at a time, beating well after each one.
11. Add the flavour, caster sugar and icing sugar then beat until combined.
12. Fold through the cooled melted chocolate until smooth.
13. Then add the double cream and fold again until combined.
14. Spoon the mixture into the moulds.
15. Bake for 20 – 30 minutes.
16. Leave the cheesecake bars in the oven to cool for an hour with the door slightly open.
17. After an hour remove the cheesecake bars from the oven and place in the fridge to cool overnight.
18. Once the cheesecake bars have set, carefully remove them from the moulds.