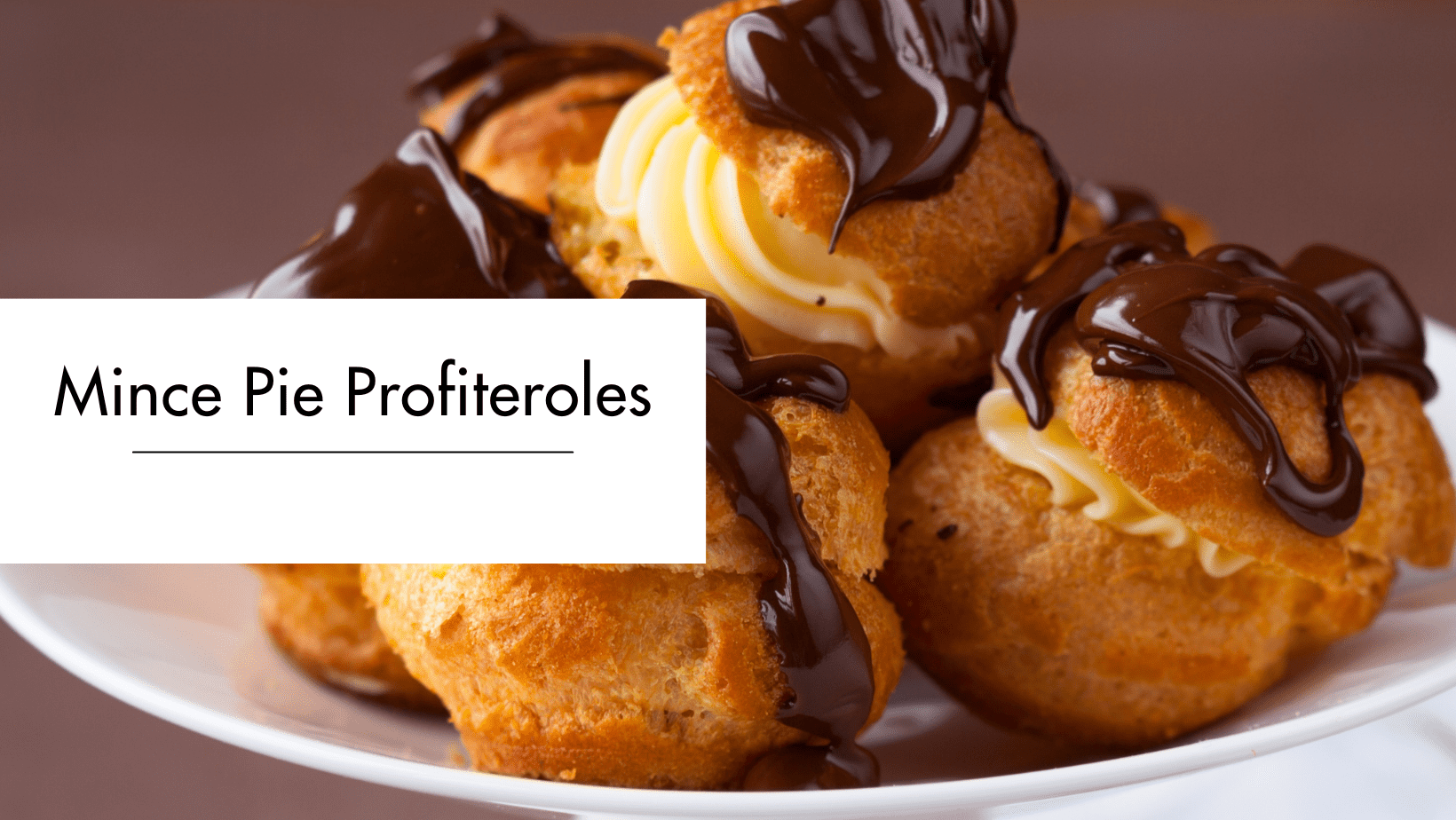 Ingredients – Choux
50g Unsalted Butter – 12.22%
14g Caster Sugar – 3.42%
75g Strong White Flour, sifted – 18.34%
120g (2) Large Eggs, lightly beaten – 29.34%
150g Water – 36.68%
Ingredients – Chocolate Topping
150g Milk Chocolate – 100%
Mince Pie Profiteroles Recipe
This Mince Pie Profiterole recipe brings a festive variation using Lionel Hitchen's Naturally Fabulous flavour.
Method
1. Heat the oven to 190°C.
2.  To make the choux pastry put the butter and caster sugar in a saucepan with 150ml of water, place over a low heat until the butter has melted, then bring to a boil.
3. Once the mixture has come to the boil, remove for the heat and add the flour all at once and beat well with a wooden spoon until the dough comes away from the sides of the saucepan.
4. Spread the dough around the pan and leave to cool for 5 – 10 minutes.
5. Once the dough has cooled add the eggs bit by bit and beat until you have a stiff, glossy mixture.
6. Line a baking tray with paper and splash lightly with some water.
7. Transfer the dough into a piping bag with a round nozzle and pipe the dough into blobs on the baking tray about the size of a 10p piece.
8. Once you have piped out all your choux, using a damp finger smooth down any pointy tops to make a smooth dough ball.
9. Place in the oven and cook for 18 – 20 minutes until well risen and golden brown.
10. Once the profiteroles are cooked remove them from the oven and cut a small slit in the base of each one and place on a wire rack to cool.
11. When the profiteroles are cold add the double cream, icing sugar and flavour to a bowl and whisk until it's just holding its shape.
12. Transfer the cream to a piping bag with a small round nozzle and fill each profiterole with the flavoured cream.
13. Once all the profiteroles are filled, melt the chocolate in a small bowl and dip the top of each profiterole into the chocolate to creating a nice topping.
14. If you want to add any decoration, add this while the chocolate is still runny.